By Pallavi Karambelkar on
Colour is a powerful design tool. It influences the overall look and feel of your website and makes the first impression on your potential customer's mind. Colour creates atmosphere, the vibe of your website and changes how a customer feels about your business. It is important to understand the vocabulary of colour to create a design that is pleasing to the eye and connects your brand to your audience.
Colour Jargon
Color theory is the interaction of colors in a design through complementation, contrast, and vibrancy. The colour wheel helps identify categories such as primary, secondary and tertiary colours and colour schemes like complementary, analogous and monochrome. When used appropriately these color combinations are foolproof and harmonious. Including shades or tints of the main brand colors and neutral colours like white and grey help balance the colour scheme with the image and text content of your website.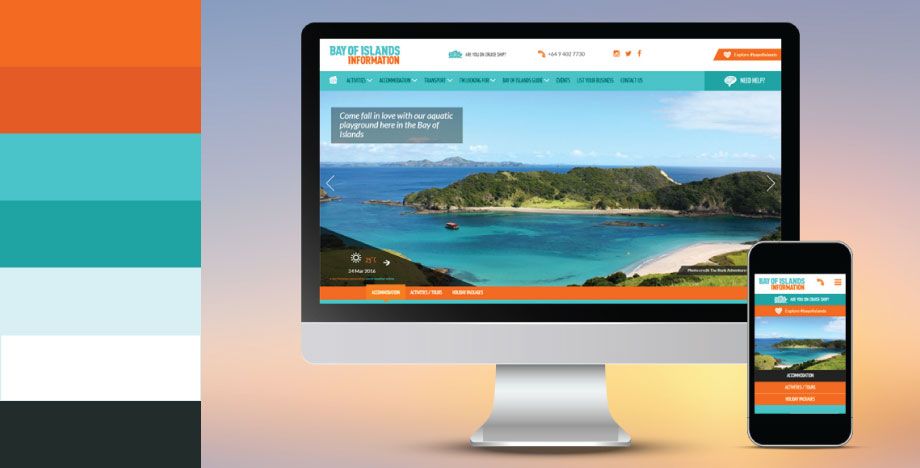 Our website for Bay of Islands information is based on the Blue-Orange complementary colour scheme.
Colour and Brand
Colours impart enormous influence over our attitudes and emotions. Choosing the colour scheme for your website has little to do with your personal favorite colour but more to do with its suitability with your business and audience. The colours for your brand must be in line with the emotional response that is desired from your customers. For example, if your product is a resort in the pacific islands, colors like red and purple would not be suitable but a cooler colour scheme with shades of blue, green, turquoise or teal would work very well.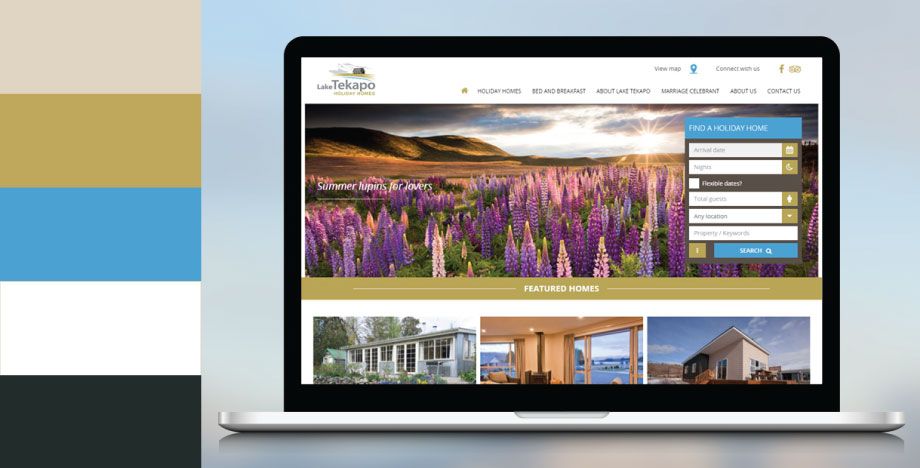 The Tekapo Holiday homes website blue and tussock based on the mountains, grass and the lake. The colours help communicate the vibe of the location on the website.
Colour and Conversion
There is always one particular action you would like your website's visitors to take when browsing. It could be your 'Book now' button, your 'Subscribe' button or even your 'Enquire' button. Through the use of colour this call to action button can be highlighted to attract the user's attention. It needs to be a colour that will stand out yet be harmonious with rest of the colours on the website. It can be a color from your chosen colour scheme or something outside of it so it attracts attention. This is a very subjective important design decision and can make or break your website's conversion.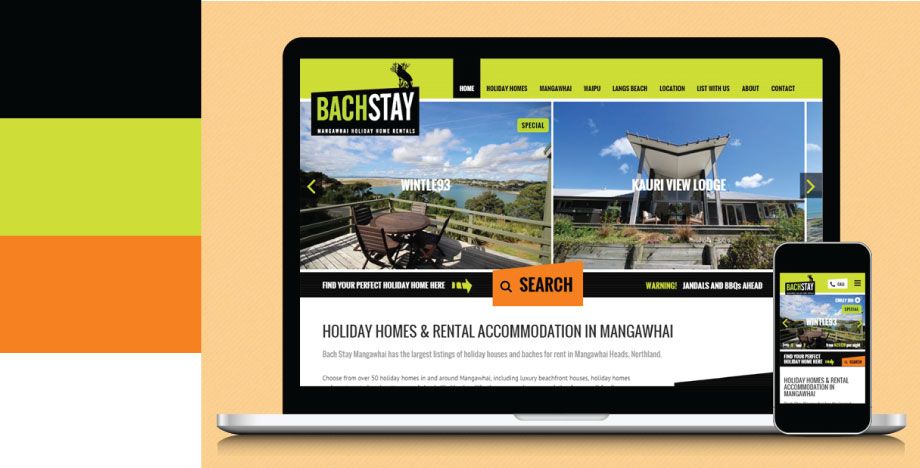 Notice on our Bachstay website how only the calls to action like 'Search' and 'Open map' are in orange to attract attention while rest of the website is a lime green, black and white combination.
A good design is formed with the interplay of a lot of elements and there is no single general rule in choosing colours for your brand or website. It is therefore all about understanding the business and the customers to find the perfect fit.
Pallavi Karambelkar | Senior Designer
By Tomahawk |
Huge thanks for signing up to our 'Website Fitness Program for your Tourism Business during COVID-19' webinar. We are thrilled that 256 people signed up and 187 joined us one the day! What a shining example of how our tourism industry...
By Tomahawk |
If you are going to spend the money and the time to do a promotion or campaign, then you also need a landing page. Today in the nest we talk about what to include (and what not to include) to attract (and not distract) to ensure you get...