By working with us, you'll be able to gain expert advice to ensure that your product or service meets market expectations and stands out from your competition.
Our approach is to spend time with you to understand your unique tourism product, discuss your business plans, goals, and address any weaknesses or threats. We'll then help you refine your business based on your own goals and situation, providing a detailed report to steer you in the right direction.
We'll also ensure you're utilising the existing industry resources and partnerships available, gain a good understanding of the current industry landscape, and that you know what your competitors are doing.
Regardless of whether your business is a tourism start-up or a well-established tourism operator, our consultancy services will offer you objective, expert advice from an independent voice.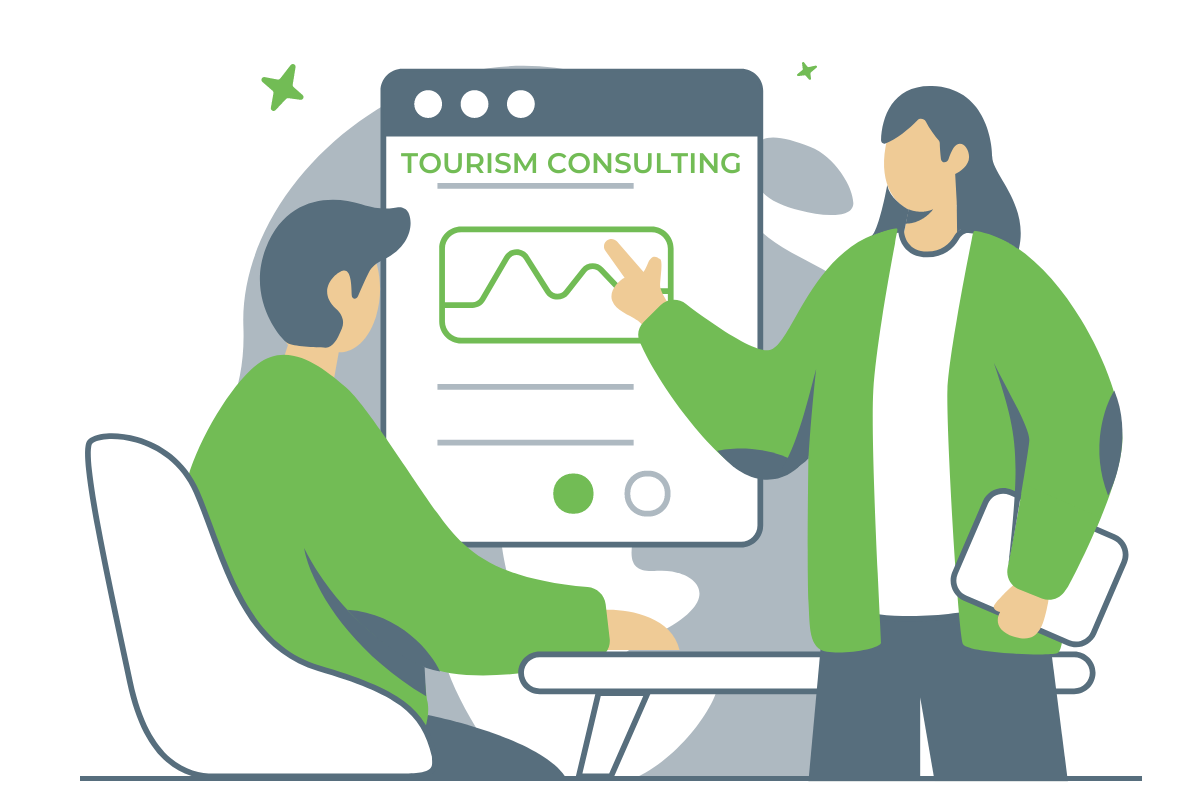 ---
Tourism Consulting Packages to Grow Your Business
Are you seeking consulting from a tourism expert with over 30 years experience to get on the path to success with increased bookings? Our tourism consulting services can be focused on identifying new revenue opportunities, or more detailed planning and implementation of strategies. See some of our packages below, and get in touch to discuss your specific needs!

"Working with Gina and her Tomahawk team has been inspiring. A collection of great minds collaborating to help us tell our story. There has been much excitement and creativity with website design, search engine optimisation, branding and design, social media, digital marketing, assistance with content and copy writing and Resbook. FLOCKHILL's expectations, interpretation and needs have been well and truly met!"
Andrew & Sandra Cullen - FLOCKHILL
"The team at Tomahawk has helped us to develop an effective marketing strategy which has already proven to increase our online presence. The key outcomes from our relationship to date are numerous. We now have a much clearer understanding of how to market our business online; we have gained Qualmark certification and with Tomahawks help, developed several new products which will give us a distinct advantage in the market place."
Gordon Thompson, Earthlore Tours
"Our website is an important tool to share travel updates and airport information, and for people to connect with the airport company. With our new site from Tomahawk we can provide an improved online experience for travellers, explore new revenue opportunities, and deliver efficiencies in house with the management of the site."
Vanessa Hartnell, Queenstown Airport
"Gina was an absolute pleasure to work with, she was very professional, clear in her instructions on what we needed to do, and also had a great sense of humour. Gina was great at giving us lots of information regarding setup placement for items and tips on what will make our accommodation stand out amongst the crowd on our website. Gina's advice was actionable and helped us achieve our goal. We were joining Qualmark and we couldn't have done it without Gina's immense help. Would absolutely recommend Gina for help in improving your tourism business, and what is and isn't required in making an accommodation great."
Jane & Robert - Montrose Estate
"Tomahawk's industry connections are second to none. We now have a top class product and distribution list which has exceeded all expectations. Thank you Gina and team, without you none of this would have been possible so quickly!"
The Sounds Retreat