????
---
Tourism Tech Talk Webinar Series 2023
?
Learn the latest in digital strategies for Tourism success covering 5 topics, each focused on providing "Something for Everyone". In each webinar our team of subject experts outline Something New, Something Reliable, Something Underrated, Something DIY and Something Trending.
---
?
?
?
?
?

Check back with us in 2024 for a new series of Tourism Tech Talks!

Our series of webinars from July to November 2023 has provided tourism businesses of all sizes and types with resources to learn some of the latest digital marketing strategies, including DIY tasks to support your learning and knowledge.
Join us again in 2024 for a new series - watch this space!
Translating GA4 Tourism
Confused by Google Analytics 4? You're not the only one! This webinar hosted by Gina Paladini and Renee Goodsell delves into some of the features of GA4, without the technical jargon!
Technology & Tourism
?
Embrace the future of technology in our webinar led by subject expert Lez ?Gunnion. Discover the latest and rising technologies that can enhance and support how you promote your business.
Brand Design & Storytelling
?
????Led by the ?talented, Pallavi? ?Karambelkar?, this webinar will unravel the significance of brand, design, and storytelling in captivating your audience's hearts and minds.
?

?

?

Google Strategies for Tourism

Tip Varnakomala shares his insider secrets and recommended strategies for utilising the power of Google to drive website traffic and bookings.
Soc
?

ial Media Marketing for Tourism

?

Our subject expert Jaimee Beck unveils her top-notch strategies and invaluable tips for harnessing the power of social media to create exceptional brand awareness and drive meaningful engagement.
?
---
"Ready or Not!, Here They Come" Webinar Series
Tomahawk hosted three webinars in March and April 2022 to help tourism businesses to prepare for the new international traveller as borders open in New Zealand.

#1 Workforce Readiness Webinar
This webinar focuses on ways to boost your team numbers and your "employer brand" in preparation for increased visitors and bookings.
#2 Digitally Prepared Webinar
Discussion on ways to be "digitally prepared" for increased visitor demand in a cluttered market, understanding who your customers are, and the cost of different sales acquisition channels.
#3 Welcome Safely Webinar
What to communicate and how to welcome the new international traveller in a safe way to meet their expectations, and tools to help you make it a smooth experience.

How to use Pinterest in Tourism
There are a lot of benefits, including SEO, for tourism businesses to use Pinterest. Watch the webinar to find out how.
5 Steps to Images that Sell
It seems obvious for tourism that images are key to sell your products, but you will be surprised at what other extra tips you can learn from this webinar.
Optimize your Google My B
?

usiness for travel

It's a no brainer to use the free Google My Business listing, but most businesses don't use it's features to the full extent - learn what you need to do in this webinar.
Podcast: How to be Tourism Ready for 2022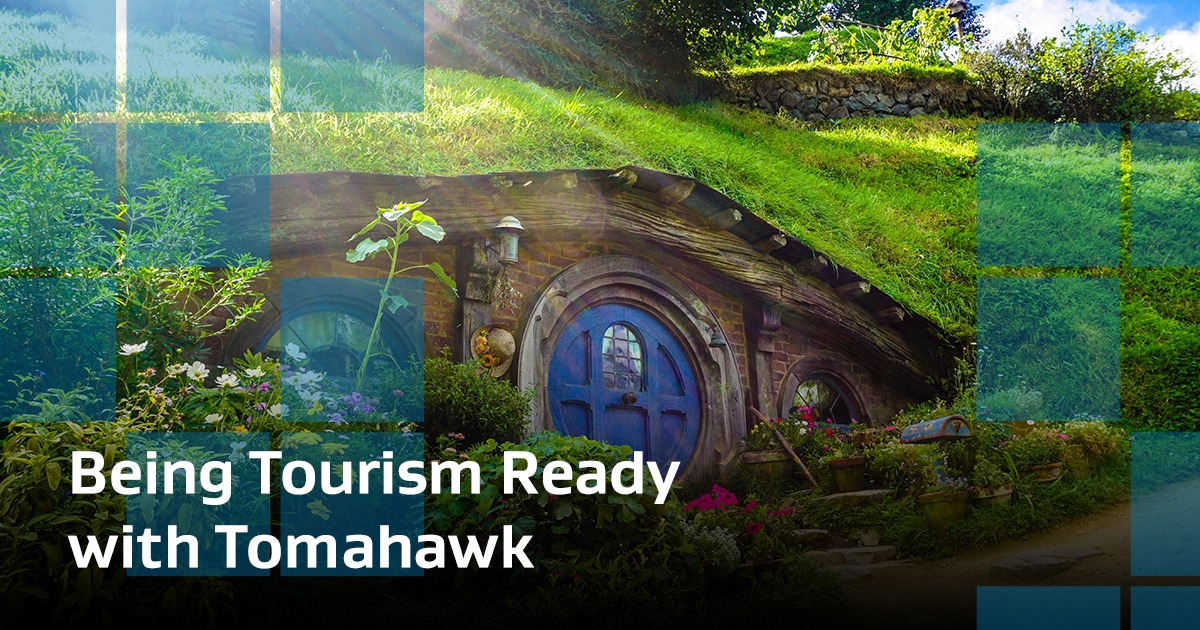 To listen, download the Digital Boost app and head to the podcast section:
apple.co/2XXSHR6
bit.ly/2ZzmjVE

NZ Domestic Travel Insights
Join Gina Paladini, Marketing Director and Renee Goodsell, Marketing Manager from Tomahawk and Sean Jones of Together Works as we deep dive into the NZ Domestic Insights data, look at specific key audiences and understand how to use the data to boost your tourism business.
Domestic Marketing During COVID
Domestic Marketing Before & After COVID
Domestic Audiences Familiar & New
The differences between International vs. Domestic marketing
Key triggers for Kiwi Travellers
Is your product Kiwi-ready?
?

?

?

Website Fitness Program

?

?

?

?

Learn the basics to keep your site looking toned and attractive to impress Google plus how to create a content calendar. Be fit, prepared and on the first page of search results, ready for domestic travel.
?

Marketing Minutes Series

A series of 2-minute marketing tips videos with the Tomahawk digital marketing team.

SEO & Google Ads
?
SEO & Google Ads . . . better together. Find out why they are a match made in heaven.
The Power of Video Marketing
?
The Power of Video Marketing . . . it's cheaper than you think!
Understand The Cost Of Bookings
?
Understand the cost of your bookings. They may come from Travel Agents, OTA's or directly on your website.
Top 3 Tips to Boost your Business
?
We share our three favourite free things you can do today to help boost your business!
5 Stages of Travel
?
Did you know there are 5 stages of travel? We look at how you can leverage each stage to increase your direct bookings.
6 Insightful Instagram Facts
?
Find out 6 insightful Instagram facts so you can boost your engagement (and hopefully bookings!) today.
Google Ads and Each Ad Type
?
Our team looks at Google Ads and share how each ad type can help you be found.
All about Online Travel Agents
?
Are you using Online Travel Agents (OTA's) to drive bookings? We talk about the costs and benefits of OTAs.
?

?

What Drives Conversions?

?

We discuss what drives conversions? Social Media or Google Ads? A question we get asked A LOT!
Three Favourite Content Creation Tools We Love!
?
We share 3 of our favourite content creation tools. Also check out our blog article for more! This will get you on your way to creating GREAT content!
Create Landing Pages for Conversions
?
?
If you are going to spend the money and the time to do a campaign, then you also need a landing page. We talk about what to include to ensure you get conversions.
Understanding Your Audience To Better Target Them
?
Knowing your audience is more than demographics. We talk about what you need to know to really understand your audience and better target them with your website and your next campaign.
Top Tips for TRENZ 2020
?
The team are back from a great week at TRENZ! In the nest today we share our key takeaways and our top tip for TRENZ 2020.
Sustainability In The Tourism
?
Looking at what the tourism industry and the exciting things Tomahawk are doing to make the world a better place.
How to Target Key Audiences
?
We take a look at some key audiences you may be looking to target, where you might find them online and what content they like to see.