Social Media Marketing: Strategies for Tourism Success
By Jaimee Beck on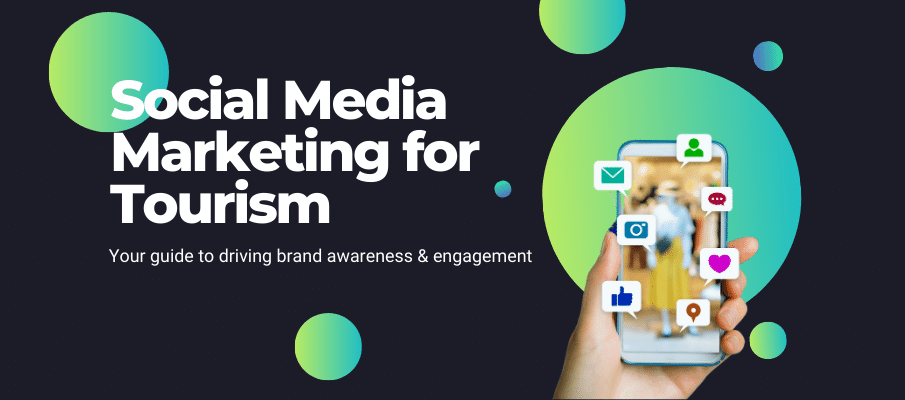 5 Strategies to Build Brand Awareness & Engagement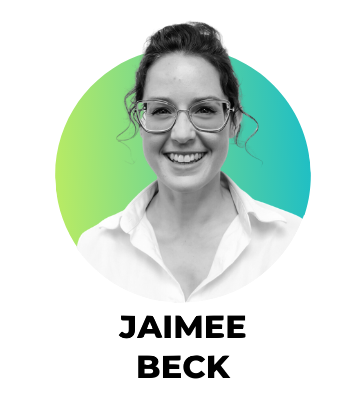 In today's fast-paced digital landscape, social media has emerged as a powerful tool for tourism businesses to reach, engage, and convert their target audience. To stay ahead in this competitive industry, it's essential to adopt innovative and effective strategies.
In this article, we'll explore five key social media marketing strategies recommended by our subject expert, Jaimee Beck, to boost your tourism business and create lasting impressions on your audience.
We also share a recording of our Tourism Tech Talks webinar hosted by Jaimee that covers these strategies along with additional questions from tourism businesses.
---
1. Something New: Use AI for Content Creation
In a world driven by technology, embracing artificial intelligence (AI) can be a game-changer for your tourism marketing efforts. AI-powered tools like ChatGPT can streamline and automate several tasks, including content creation, social media calendars, and copywriting. These intelligent systems can analyse data, identify trending topics, and even curate captivating content that resonates with your audience.
By leveraging AI automation, you can optimise posting times, ensure consistent content delivery, and craft engaging posts that capture the essence of your brand. The efficiency of using AI will allow you to focus on higher-level strategies and creative initiatives, while the AI handles the repetitive tasks saving you precious time.
How do you use these AI tools?
Copy generators like Chat GPT can help you plan and create content. You can quickly set up a free account with ChatGPT and get started. You'll be amazed at how quickly it can create ideas and content for you, we recommend you try creating:
Content Bucket Ideas
Ask ChatGPT to help design content buckets for your business. Content buckets are categories for your content to help you plan a variety posts that all relate back to your brand. Buckets could be things like: Team/product news, fun-fact destination information, promos and competitions, behind the scenes content etc. By creating these buckets you can then plan out posts for each bucket over a month without being repetitive.
Content Calendars
Ask Chat GPT to plan a month of post ideas using your content buckets and define how often you want to post on each platform. You will still need to create the visual media to go with the post idea and content.
Captions & Video Scripts
Describe some footage you have to ChatGPT and ask for some captions or a script to suit your brand voice. You can ask for it to be amusing, informative and in a particular style (e.g using New Zealand slang)
Make sure to always check AI generated content for accuracy and brand voice as it won't always get it right!
View this example of how ChatGPT works: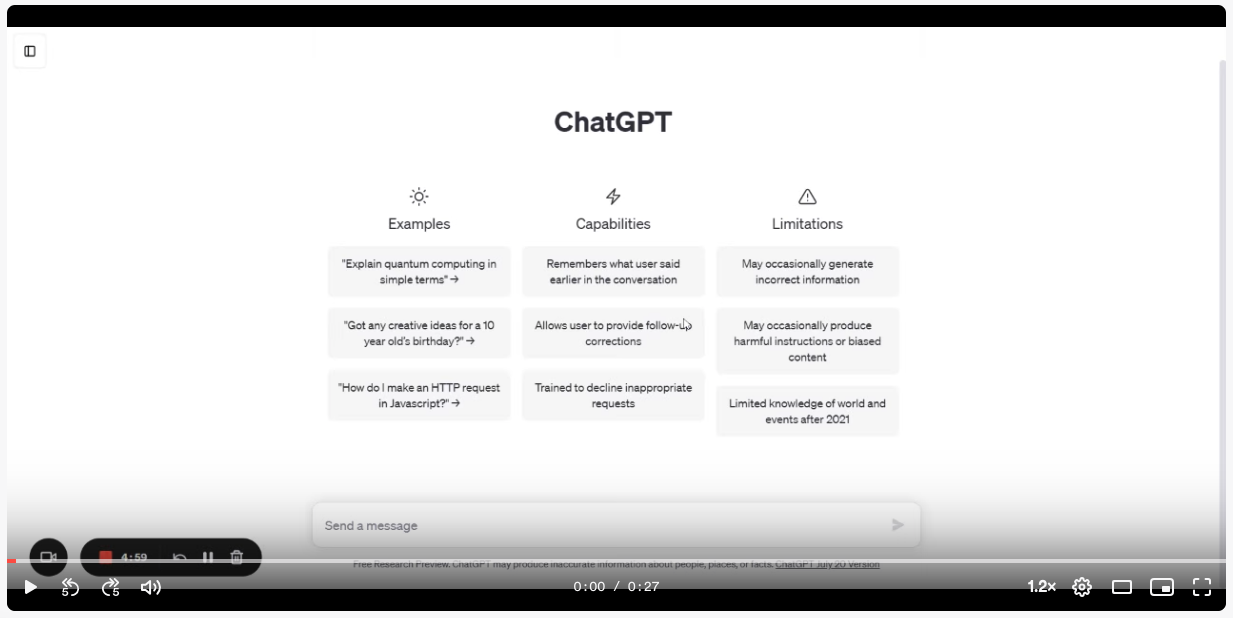 ---
2. Something Reliable: Community Management
In the world of social media, building strong relationships with your audience is crucial for long-term success. Community management plays a vital role in cultivating trust, loyalty, and advocacy among your followers. The whole purpose of social media is to build trust, familiarity and a connection with your audience.
Think of your social content as the conversation starter, and your community management as the conversation itself. Responding promptly to comments, messages, and reviews demonstrates your commitment to customer satisfaction and fosters a sense of community around your brand. Engage with your audience authentically, address their queries, and show appreciation for their feedback. By humanising your interactions and forming genuine connections, you'll create a loyal customer base that eagerly spreads the word about your exceptional tourism experiences.
Here's a great example of how the @nationalparkservice creates quite simple & amusing posts on Instagram and follows it up with equally funny comments engaging with their followers. They not only create an extremely active community but also turn potentially boring topics into fun interactions and engagement. This post had over 286,000 likes and 2,360 comments just 2 weeks after sharing it!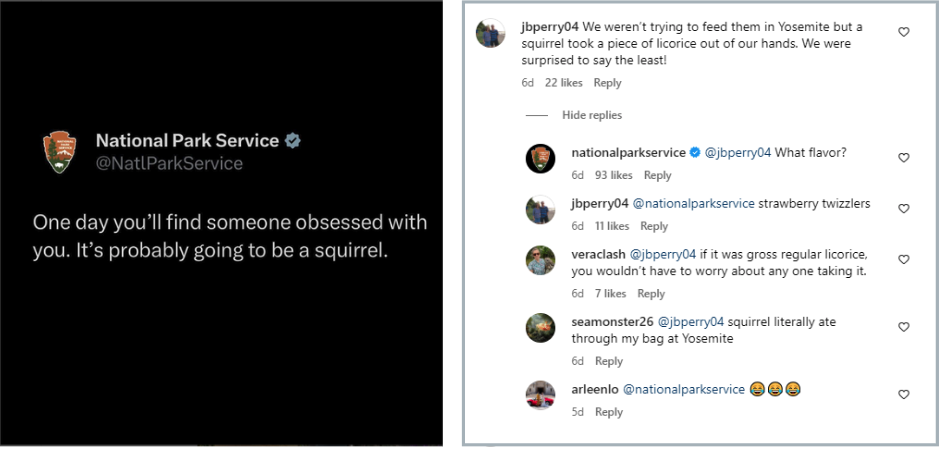 ---
3. Something Underrated: Closed Captions
Captions on videos are becoming a very popular way to communicate the messaging on short-from social media video that can be used with or without voiceover. The key reasons captions are expected to be the norm are:
Accessibility: captions make content accessible for users with hearing impairments.
Engagement: captions keep people watching until the video ends, especially if they have the sound off.
Search Optimisation: adding captions to your videos increases your keyword density and diversity, improving SEO.
As the consumption of short-form video content surges, implementing closed captions may seem like a small detail, but its impact should not be underestimated. Closed captions enhance the accessibility of your video content, making it inclusive for people with hearing impairments and those in noisy environments where audio might be impractical.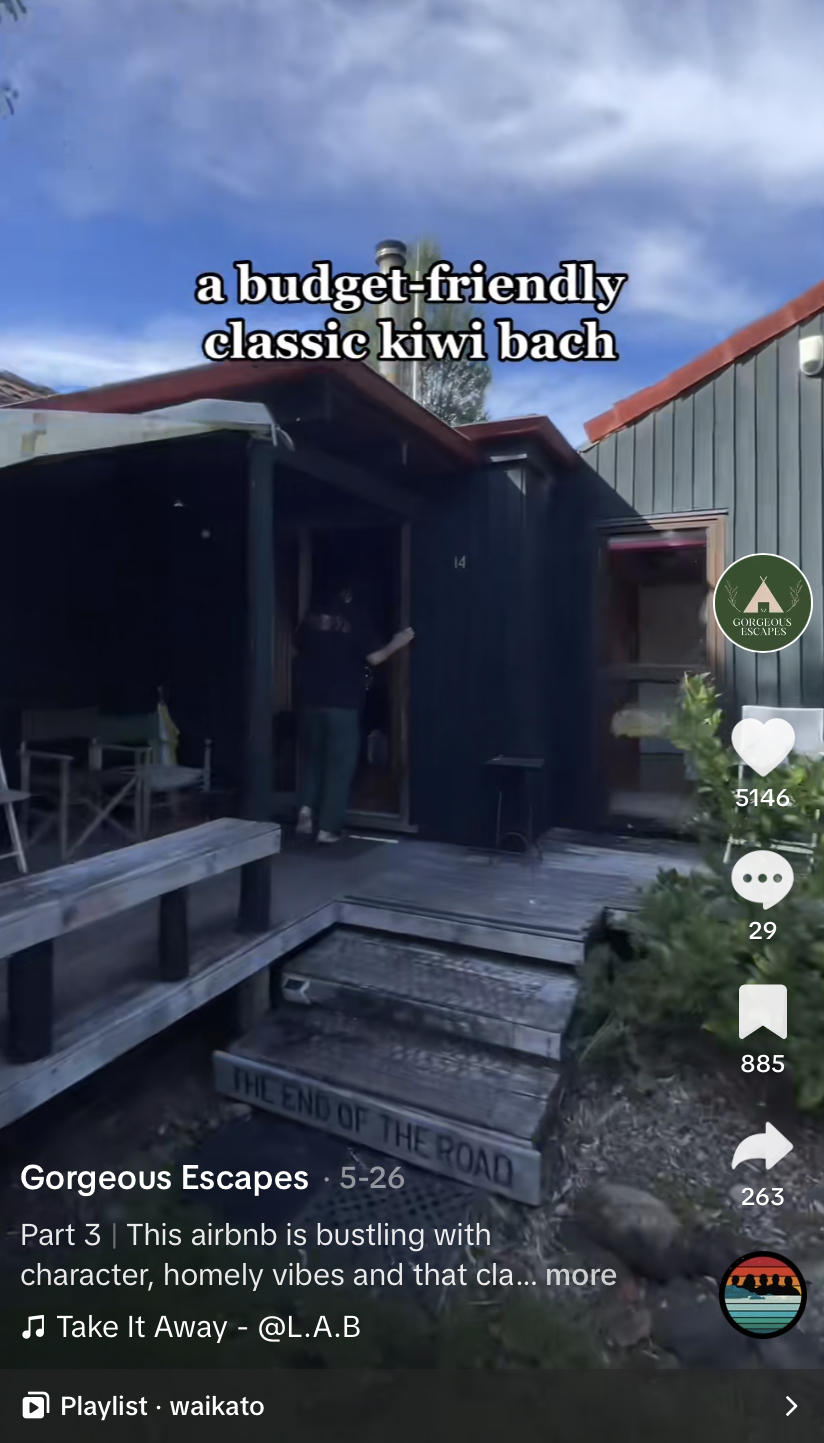 Increasingly, closed captions can boost your video's engagement and reach. Social media platforms often auto-play videos without sound, and captions can catch viewers' attention and encourage them to watch the entire video.
An estimated 85% of social media videos are watched with the sound off, especially in public spaces. Videos with captions are 80% more likely to be watched to the end. (Source: Verizon Media and Publicis Media study 2019)
By incorporating closed captions, you can ensure that your message reaches a wider audience and resonates effectively.
Video captions also play a valuable role in enhancing your search rankings. Search engines rely on keywords to understand the content and context of a video. By incorporating relevant keywords and phrases in your video captions, you increase the chances of search engines accurately indexing and associating your video with specific topics or queries.
---
4. Something DIY: User Generated Content
User-generated content is a powerful asset for tourism businesses as it showcases authentic experiences from real customers. Encouraging UGC is a cost-effective way to expand your brand's reach while building trust and credibility. In fact, 80% of consumers say user generated content highly impacts their purchasing decisions. (source: Stackla survey)
Ways to stimulate UGC that shares their memorable travel moments:
Reward guests for 'Checking In', or sharing a location tagged story or post.
Mention it on on-site signage, or in your interactions with guests.
Run promos to reward UGC and increase brand awareness. Include required hashtags.
Make it easy & obvious! Include a call for UGC on booking confirmations & follow up emails.
Reshare user generated content and make sure you credit the creator.
Not only does this strategy foster a sense of community, but it also incentivises more people to share their experiences, and creates an ongoing cycle of engaging content.
JUCY Group are a great example of how to effectively target and use UGC with their #JUCYmoments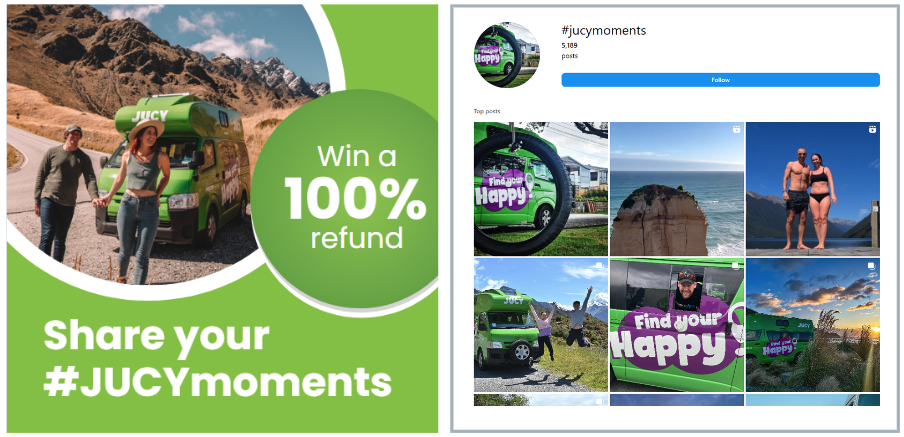 ---
5. Something Trending: Brand Authenticity
In the era of social media, brand authenticity is a prevailing trend that is here to stay. Today's consumers value transparency, honesty, and a genuine connection with the brands they choose to follow. For tourism businesses, this means showcasing the true essence of your offerings and the unique experiences you provide. By staying true to your brand's values and personality, you'll forge deeper connections with your audience, leading to increased brand loyalty and advocacy.
Whats In & What's Out?
Acknowledging societal and environment issues, and giving back to our communities, are in.
Greenwashing, fake news and unethical practices are out.
How to Navigate this Social Trend?
Identify, live, and talk about your brand values
Share behind the scenes content showing how your business runs, how you take care of your team, and your sustainability or community projects
Create authentic, original content relevant to your tourism business, rather than jumping on random trends (Nothing is less cool than trying to be cool!)
The Hilton Hotel brand provides a compelling example of how they give back to refugee communities - view this post that shares the story of Ismaeil, one of the 2,700 refugees they have supported in Germany: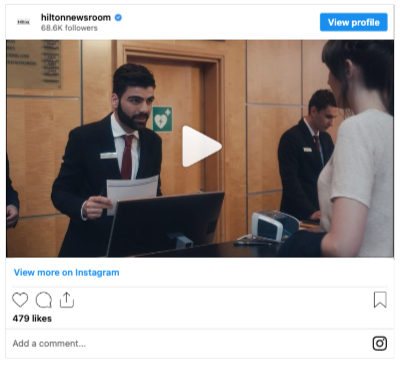 ---
Your Social Media Marketing Will Thrive!
Incorporating these five key strategies into your social media marketing efforts can set your tourism business apart from the competition and clearly position your brand:
Embrace AI automation to enhance efficiency
Prioritise community management for relationship building
Harness the power of closed captions to increase video engagement
Empower your audience to create content for you
Maintain brand authenticity throughout your online presence
By following these expert tips, your tourism business will thrive in the dynamic world of social media marketing. If you need any assistance from our team with your social media strategies get in touch, we also offer some great packages to help drive success on your platforms!
---
Webinar Video
You'll find all of these strategies discussed on our Tourism Tech Talk webinar about Social Media Marketing for Tourism. Jaimee and host Gina Paladini share these in detail along with tourism examples and answering questions from tourism businesses. You can see answers to additional questions not covered in the webinar.
Jaimee Beck | Digital Performance Specialist
By Tomahawk |
Instagram is widely used by tourism businesses to feature visual content (both images and short-form video) as a key social media marketing platform. It's also an effective channel for paid ad strategies to target your specified...
By Tomahawk |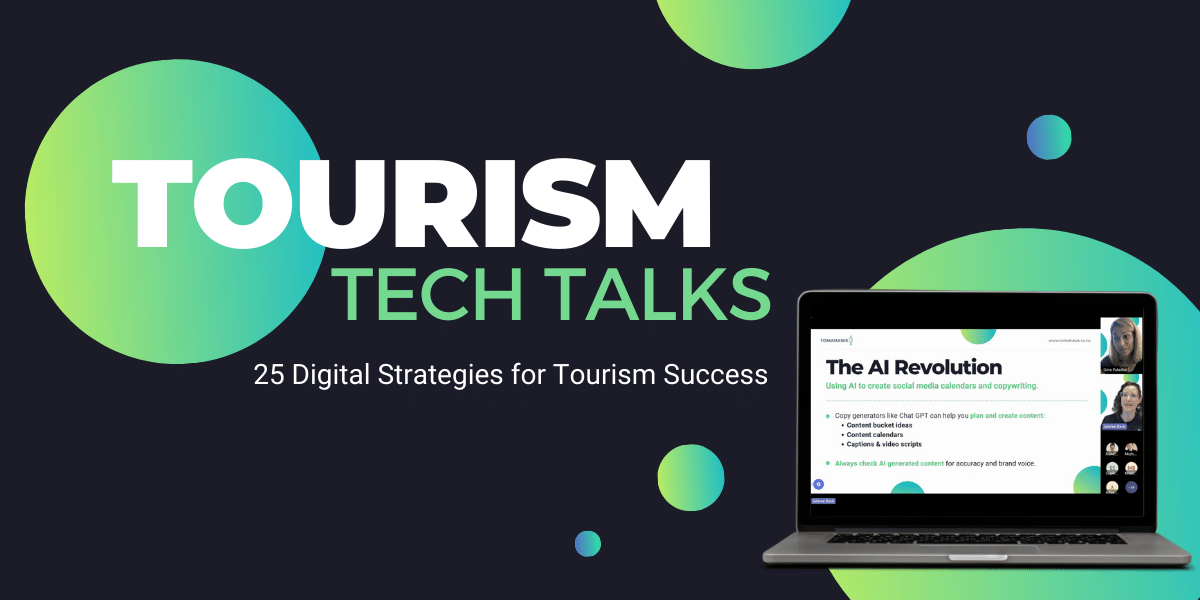 Digital marketing is an ever-evolving part of promoting your tourism business. With new tools and technologies being developed constantly it's vital to keep on top of the latest strategies available to you. That's why we continue to...