Google offers FREE travel booking links to all accommodation providers.
By Tomahawk on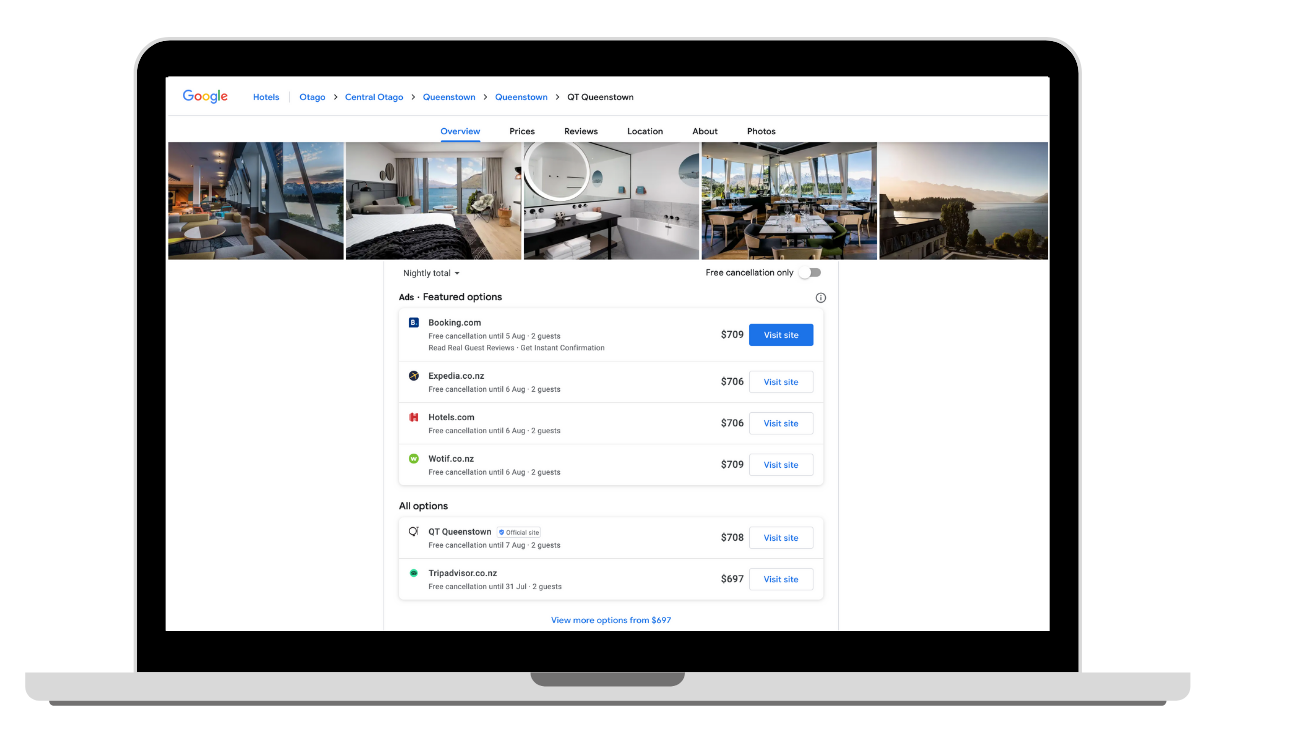 There's been some big news from Google recently that's sure to make all our accommodation clients very happy…
Just before the Trans-Tasman travel bubble was announced, Google revealed that all accommodation providers would now be able to access FREE booking links.
This means that when people search for accommodation, your property could be among the first to appear and give searchers the opportunity to book directly via your website.
In their recent announcement, Google said, "For all hotels and travel companies, this change brings a new, free way to reach potential customers [...] Our testing of this new feature shows that all partner types — from individual hotels to online travel agents — benefit from free booking links through increased booking traffic and user engagement."
So, what's changed?
Previously, the only properties that could access Google's booking links were those that paid for Google Hotel Ads as Google Hotel Centre partners.
Google Hotel Ads will still display prominently for anyone searching for accommodation using Google Search, Google Maps and Google assistant, but beneath the top ads will now be a list of additional direct booking links from non-paying customers.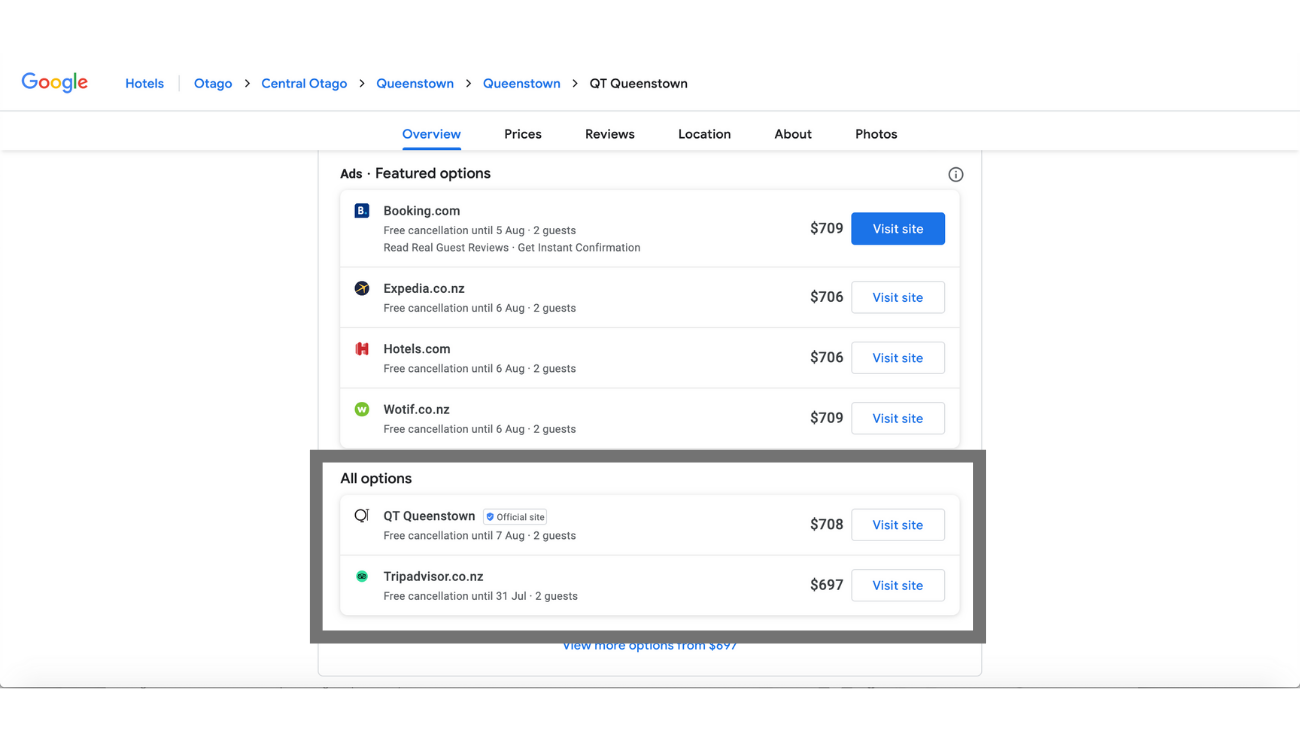 What are the differences between hotel ads and free booking links?
Google Hotel Ads rankings are determined primarily by bidding prices, so those who pay the most have a better chance of appearing at the top. Google Hotel Ads are also clearly marked as such.
On the other hand, higher rankings for free booking links cannot be bought, and placement is determined according to Google's assessment of what's most suited to that specific Google user.
How do you get set up?
If you're already running Google Hotel Ads, don't panic. This means you're already a Google Hotel Centre partner and you don't have to change anything right away—your ads will continue and your properties will also be eligible for free booking links.
But if you're not already a Google Hotel Centre partner, there are a few steps you need to take to give your properties the best chance of being featured.
1) Make sure you're using Google My Business. Only verified Google My Business customers will be eligible to sign up for the Hotel Centre platform which generates free booking links—so this is a must! It's free to set up a Google My Business profile and there are loads of other advantages to having one that go beyond the free booking links. Check out our free guide and if you need help, let us know!
2) Choose how you'd like to connect your properties to the platform. You can either link up with one of Google Hotels' existing channel managers, opt for a direct integration or wait for Google to release their new tool that will allow individual accommodation providers to supply their rates and availability directly without the technical requirements.
Tips to optimise your ranking
Rankings for Google's free booking links will be determined based on:
- consumer preference
- value offered to the user
- landing page experience, and
- historical accuracy of the prices provided to Google.
Aside from ensuring the prices you provide to Google are always up to date, the best way you can increase your chances of getting a high ranking is by focusing on your landing page.
A landing page is where users will be directed to when they click on a free booking link, so it's crucial that it includes all the right information and offers a seamless experience. Your landing page should load quickly, prominently display the room and rate chosen and make it easy for users to book. It should also contain any additional information that might persuade the user to proceed with the booking – attractive images, info on location, any inclusions in the price, and so on.
Need help?
Remember, we're here to assist you with all of the above – Google profiles and listings, website landing pages, booking engines and more! If you'd like some assistance, reach out to us for a chat about how we can help.