The Art of Marketing the Perfect Ski Day
By Tomahawk on
It's winter. The slopes are calling to you. It only takes a little push and you'd be packing your car with your overnight bag and your skis. A few hours later, you have your hot cocoa in hand looking out into the glistening white and the endless blue skies. Life is good.
That little push you needed? You Googled Mt Ruapehu and the first result that popped up said that the weather is amazing today and it's time to make that ski dream a reality. Why not? It is the perfect ski day today, after all.
Now, here's the fun part. You didn't specifically check the weather conditions for Google did you? The result that said it all is actually an ad based on the current weather condition. Yes, it's possible and for businesses that are affected by New Zealand's crazy winter rains, it's the perfect tool to increase sales.
The tourism industry, in general, is strongly influenced by seasonality. Winter is more difficult to deal with because of the variability of the weather. So, if you're offering ski trips or skydiving services, your ideal condition would be sunny skies and no rain, right?
Now, it's possible to use live weather data to serve up specific ads for Google and Facebook so you deliver the right message to users based on the weather conditions. Integrating with a trusted meteorological service, the ads only show on the day when the weather conditions are met.
For example, if your tourism business has indoor and outdoor activity options, weather ads focusing on indoor will appear on rainy days, whereas ads focusing on outdoors will appear on sunny days. This helps maximise the impact of the ads, reaching the correct target audience every time, and saving you money in the medium and long-term.
Case Study: North Island Ski Holiday
Tomahawk recently tested this feature for Great Lake Taupo. The goal was to build awareness and interest in Great Lake Taupo as the New Zealand ski holiday destination for winter. The concept was simple: Blue Skies and the Sunshine in Great Lake Taupo equals Perfect Winter Experience.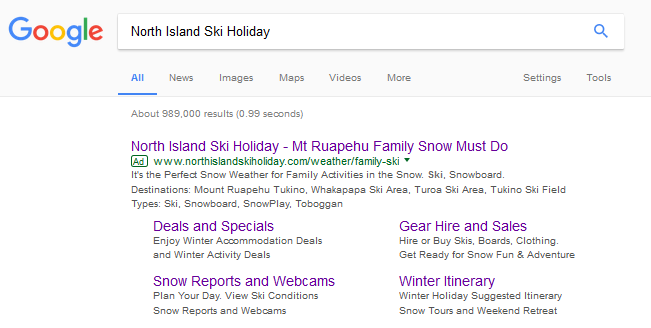 During the first two weeks of the digital marketing campaign launch, the "weather specific ads" outperformed the "generic ads" within multiple engagement categories such as click through rate, average time on website, bounce rate and CPC. Users that clicked on the weather-specific ads spent 40% more time on the website versus those who clicked on the generic ads. CPC were also lower by 15%. Read the case study to learn more.
If your business benefits from weather-influenced activities, we believe weather ads can work for you, reducing cost and increasing user engagement, leading to bookings. Get in touch with us today at [email protected] to find out how Tomahawk can help grow your Tourism business.