Using Pinterest for Tourism Marketing
There's a new kid on the block of Social Media which lets you connect with your audiences in the most visual way yet.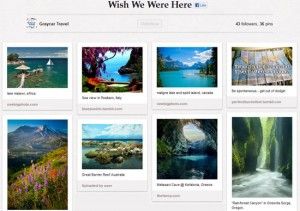 When marketing a tourism business, when it comes to piquing the interest of a potential guest or customer, the visual will always work better than the verbal. This is why the new Social Media site, Pinterest, should be of interest to you.
With Pinterest, you can organise images on your own online inspiration board, or pinboard - then engage with your social networks, link back to your website and let people share your images with the world.
Pinterest offers many creative marketing opportunities for your Tourism Business. You can showcase the various details or experiences your accommodation or activity offers in a visually arresting way. Using photos, share the details of your business - like the freshly harvested veggies from your garden for your signature dish or create an album highlighting the anticipate of your guests prior to your adventure activity.
For users, Pinterest is like the travel scrapbook of decades past - letting users organise travel boards of inspiration and share them with their networks.
Pinterest just hit 11.7 million unique monthly U.S. visitors, crossing the 10 million mark faster than any other standalone site in history. (Source TechCrunch). At that rate, it's going to get huge - so go for it and start sharing and grow your tourism business through this great marketing opportunity!
Read more about Social Media Marketing for Your Tourism Business here
By Tomahawk |

Facebook has done it again!
Facebook is working hard to keep businesses on their toes with a major overhaul planned for 2018. Their vision is to change your news feed in the coming months with a new algorithm that will...
By Tomahawk |
Did you know that 100 million hours of video are watched on Facebook every day? It's no wonder the social media giant has taken it to the next level with Facebook Live. This powerful new tool gives you two good reasons to start...