IDS hospitality software fuels 12 Best Western hotels in India
Through IDS Softwares, the Hotel Management Software Specialists, Tomahawk brings the latest in Hotel software technology to the South Pacific. We're excited to share their recent partnership with twelve Best Western hotels in India:
"The usual, sir? Room no. 603 facing the poolside?". A lot of backroom technology goes behind that seemingly spontaneous greeting at your favourite hotel.
Binu Mathews, President and COO of IDS Softwares and Sudhir Sinha, President and COO, Best Western India , speak to IndiaTechOnline's Vishnu Anand on new technology trends in the hospitality space and their 12-property partnership
Bangalore-based IDS softwares has been providing solutions to the global hospitality industry for more than 20 years.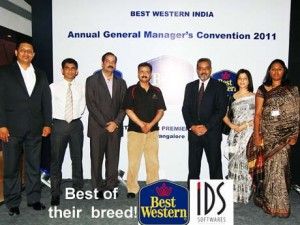 Speaking about the recent chances in the hospitality segment, Mathews said, "Over the last 10 years or so, the focus for hotels, to provide good service to guests has shifted from transactional systems to guest enhancements. Transactional systems are the run-of-the-mill automation of booking and billing processes. Guest enhancement is about respecting the repeat guests -- technology that can remember your name, be able to inquire whether you would like your favourite room no. 603, non-smoking that faces the pool, and most importantly, speed up your check in process after your many hours of tiresome flying."
So, how does technology help hotels to increase guest satisfaction and improve business? "Guest satisfaction is only one element. Technology can be used across all the departments, in a hotel -- at the back office, our tool provides real-time data on cash inflow, store capacities, provides control of debters, quantity of goods inflow for the kitchen among others." He continued, "There is sufficient intelligence built into our systems to understand and tabulate the production cost in relation to profits -- and go a step further in even analysing kitchen data to most preferred food and beverage items."
Besides guest satisfaction and back office, Mathews says he has seen an increased awareness of security within a hotel. after the recent terror attacks, "Right from verifying customer data to providing control for escalators and elevators, our tools help hotels keep a tab on their guests without intruding on their privacy", he explained.
Speaking about future plans for IDS, he said, "We are working on adding functionalities that enable a guest to check in with his smartphone by entering a code. Some of our customers have features like console controls for a guest room via an iPod among others."
IDS Softwares has also launched a technology support service-- a 24/7 manned support centre free-of-cost for its customers.
'Preferred IT Partner'
Thanks to the Forf 'hospitality ERP' suite built on SQL and DB2, IDS software, was recently declared the preferred IT partner for the Best Western India group of hotels.
Speaking on the sidelines of BEST WESTERN India�s Annual General Managers Convention 2011 at Best Western Premier La Marvella, Bangalore, on April 28, Sudhir Sinha, President and COO, Best Western India said, "Having eighteen properties in India, it is a challenge for us to maintain the uniqueness of each property while maintaining consistency of service. Technology is very important for us, and we are happy that IDS provides a seamless way for us to use technology across different aspects of our business. Their regular updates helps us enhance our operations better.
Part of the world's largest Hotel Chain, Best Western in India is managed by Cabana Hotel Management Pvt Ltd. The chain has a presence with eighteen properties in India with Ahmedabad, Amritsar, Baddi, Gurgaon, Manesar, Mathura, New Delhi, Zirakpur (Chandigarh), in the North. Bangalore, Hyderabad, in the South. Goa, Neral (Near Mumbai), Pune, Shirdi and Surat in Western India, and Kolkata in Eastern India. Best Western in India recently set up its Best Western Centre For Hotel Management and Training at Bhubaneshwar. IDS solutions fuel 12 Best Western properties in India
Click here to view a short AV Clip on the IDS Hospitality Software Suite.
By Tomahawk |
Targeting Domestic Visitors - getting more from your marketing dollar webinar had a whopping 407 people register!
If you were unable to join us on the day, we have included a recorded version below for you to watch.
We have also...
By Tomahawk |
GDPR. No, it's not just another buzzword that's afloat on the internet. Everyone with a website needs to pay attention!
What is GDPR?
GDPR stands for General Data Protection Regulation and it goes into effect internationally on...